About Paros
Paros is located in the heart of the Cyclades and one of the best loved holiday destinations in Greece. It has unrivalled natural beauty, superb architecture, crystal clear waters, Byzantine footpaths connecting traditional villages and breath-taking landscapes.
The most important sightseeing spot in Paros is the Byzantine Monastery of Ekatontapyliani, meaning the church with the 100 gates. Many other monasteries are found on the island however, Paros is mostly famous for its stunning beaches and very picturesque villages. With Naoussa, Lefkes, and Parikia being the most scenic villages to visit.
There are so many places to eat and drink with the majority of restaurants found in Parikia and Naoussa, the two main towns. And traditional tavernas are also found in villages and beaches throughout.
Paros offers great nightlife and there are many bars and clubs to choose from. Bars and beach bars are found in many tourist places, while most clubs are found at the beach promenades of Parikia and Naoussa.
Paros is a busy and popular island, and there are so many things to do. For example, if you like water sports, you can go wakeboarding, canoeing, kayaking, take snorkelling excursions or go scuba diving to uninhabited islets and reefs and old wrecks nearby. Among the most popular diving sites is Bubble Reef at the Barracuda Point, the Cave at the uninhabited island of Panderonisi, the Stringway Point, the shipwreck of MS Samina and more. Alternatively, you can go windsurfing and kitesurfing at Golden Beach and New Golden Beach. But to be precise the ideal spot to go kiting is Pounda, an area in front of Antiparos island with flat water and northern summer winds creating perfect conditions. These are the best windsurfing spots and also where annual International windsurfing competitions are held in the summer. Aqua Paros is a waterpark in Kolymvithres. Although there are much larger waterparks around the world, this one happens to be one of the largest in Greece. And one special feature of Aqua Paros is that it uses sea water instead of fresh water. A great alternative day out with family and friends.
Another way to explore the treasures of the island is on horseback. Kokou Riding Centre in Naoussa and Thanasis Farm in Ambelas both provide a great day out. With one you can ride out on the coast and with the other tour inland.
If you want a leisurely night out and something different to do with friends and family, you could always discover the world of the open air cinema. What better way to enjoy a movie other than under the light of thousand stars on a summer night in Greece? Cine Rex is in Parikia and Cine Enastron is in Monastiri.
The Valley of the Butterflies is located near the settlement of Psychopiana. You will be impressed on the walk up to it as the route looks very unlike the typical landscape of the Cyclades. Although yes you pass by a Byzantine watermill the familiarities end there. The area has been integrated in the community network of protected areas NATURA 2000 as a Site of Community Importance and it has been declared a Significant Bird Area of Greece. Petaloudes (butterflies) is an area of stunning natural beauty. The habitat is a small green oasis of coolness amongst tall trees, bushes, laurels, wild olive trees, carob trees covered in ivy that play host to the hundreds and hundreds of Panaxia quadripunctaria butterflies or commonly identified as the Jersey Tiger. It is imperative that during your visit you do not frighten the butterflies which stand still, because if they fly, they will end up consume valuable energy that they need for reproduction from middle of June to August.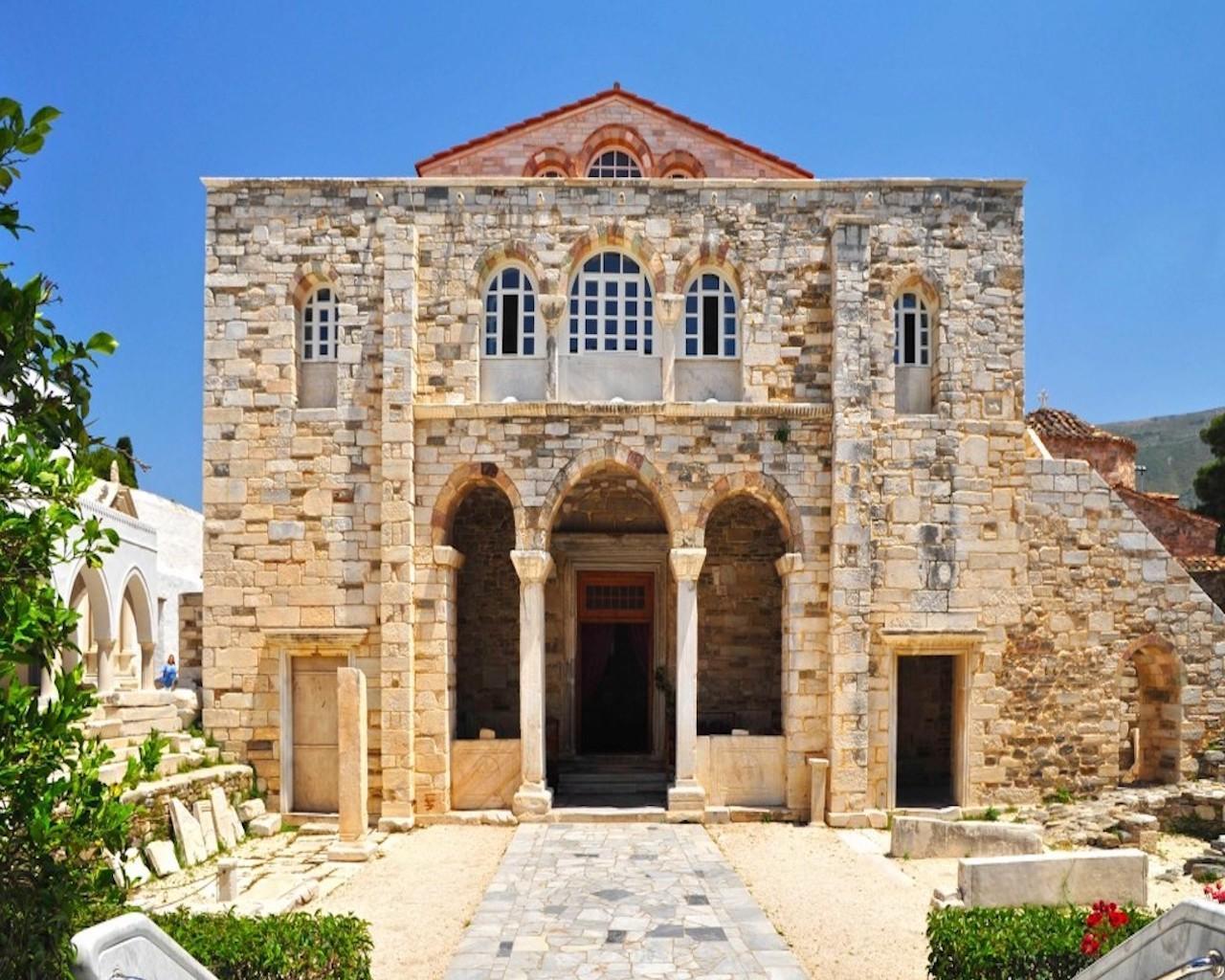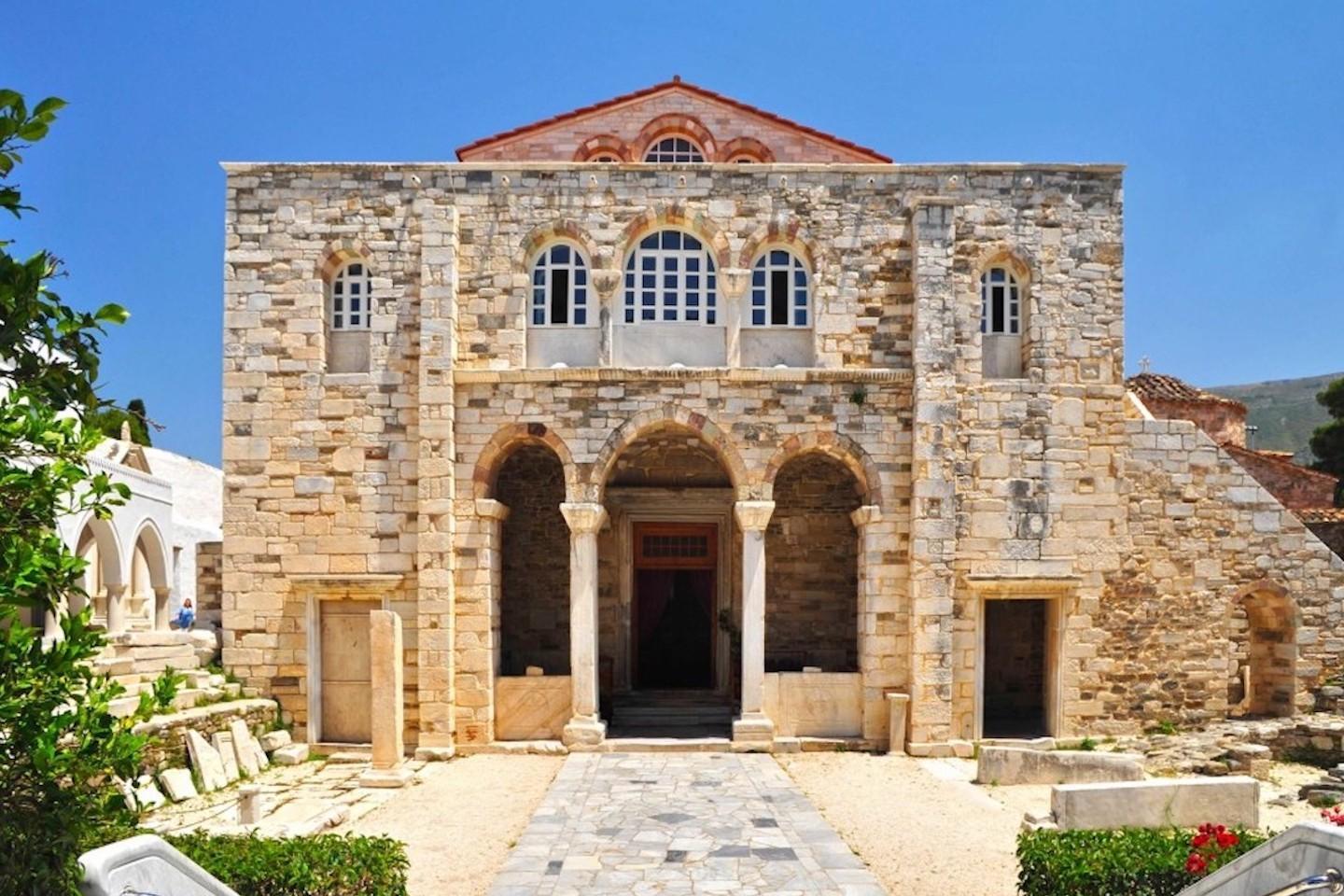 "The Island's History"
"The Island's History"
Don't miss the chance to visit the one of the best-preserved baptisteries in the Orthodox East, and the Byzantine Museum which dates to the 4th century AD. In Naousa you can wander through the village and soak up the ruins of a Venetian fortress that stands at the entrance to its small harbour.
Lefkes is located at the highest point of Paros and enjoys stunning views of the island. It is up in the mountains and is surrounded by a rich green landscape. It has very well preserved Cycladic and neoclassical buildings, beautiful squares and narrow marble alleys.
Marpissa, founded in the 15th century, is a traditional village with a distinctive medieval character. It is located on a hill, a few kilometres away from the famous beaches of Logaras and Pisso Livadi.
The Archaeological Museum displays exhibits from the island's monuments including part of the Parian Chronicle, a chronological table of the 3rd century BC with references to important events and persons of ancient times.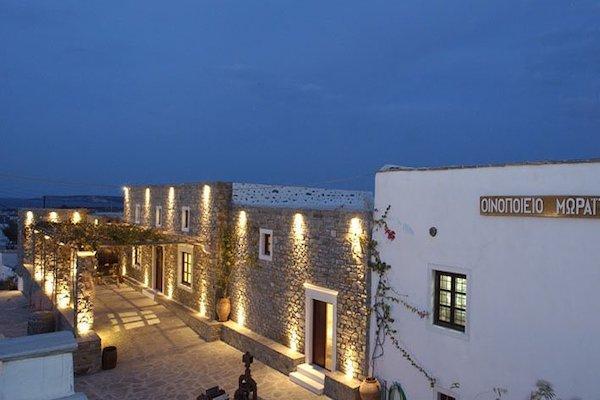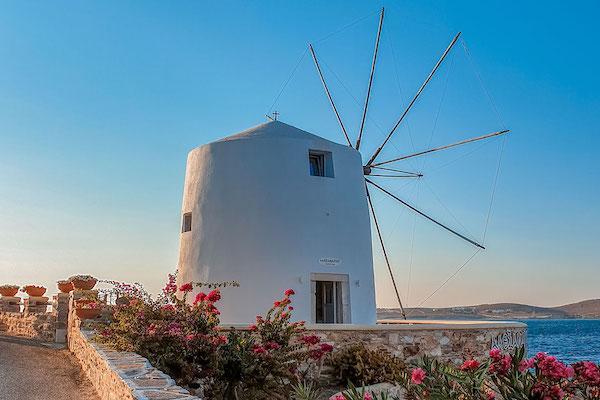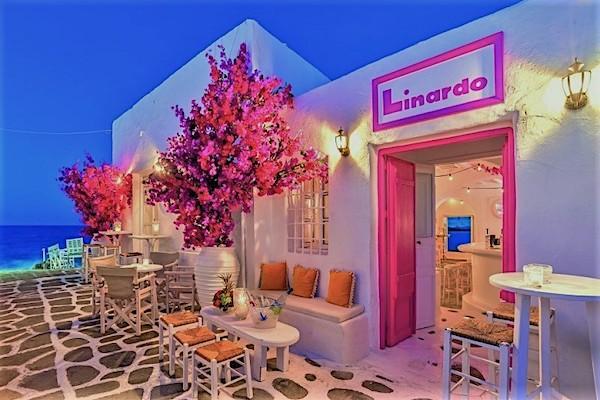 Beaches
Paros has some of the most beautiful and popular beaches in Greece. Paros beaches are defined by their crystal water and relaxing atmosphere, attracting many visitors every summer. Some beaches are fully organised while others are completely secluded. The most famous of all is Kolympithres beach with characteristically beautiful blocks of granite, impressive white rock formations and natural landscape.
Another famous beach is Santa Maria located near Naoussa. It has a long coastline divided into two soft, golden sandy beaches which offer a beautiful view on the island of Naxos and the crystal emerald waters. The first is commonly known as Santa Maria Camping due to the nearby site. They both face onto Aliki Bay. The second is about a kilometre beyond the first and is on the right side of the road. It is a nice bay with good views. The beach of Kalogeros, surrounded by red and green clay rocks offers a really effective spa for free! Cover your body with clay and let it dry in the sun; after a while rinse yourself in the sea and your body will feel softer than ever!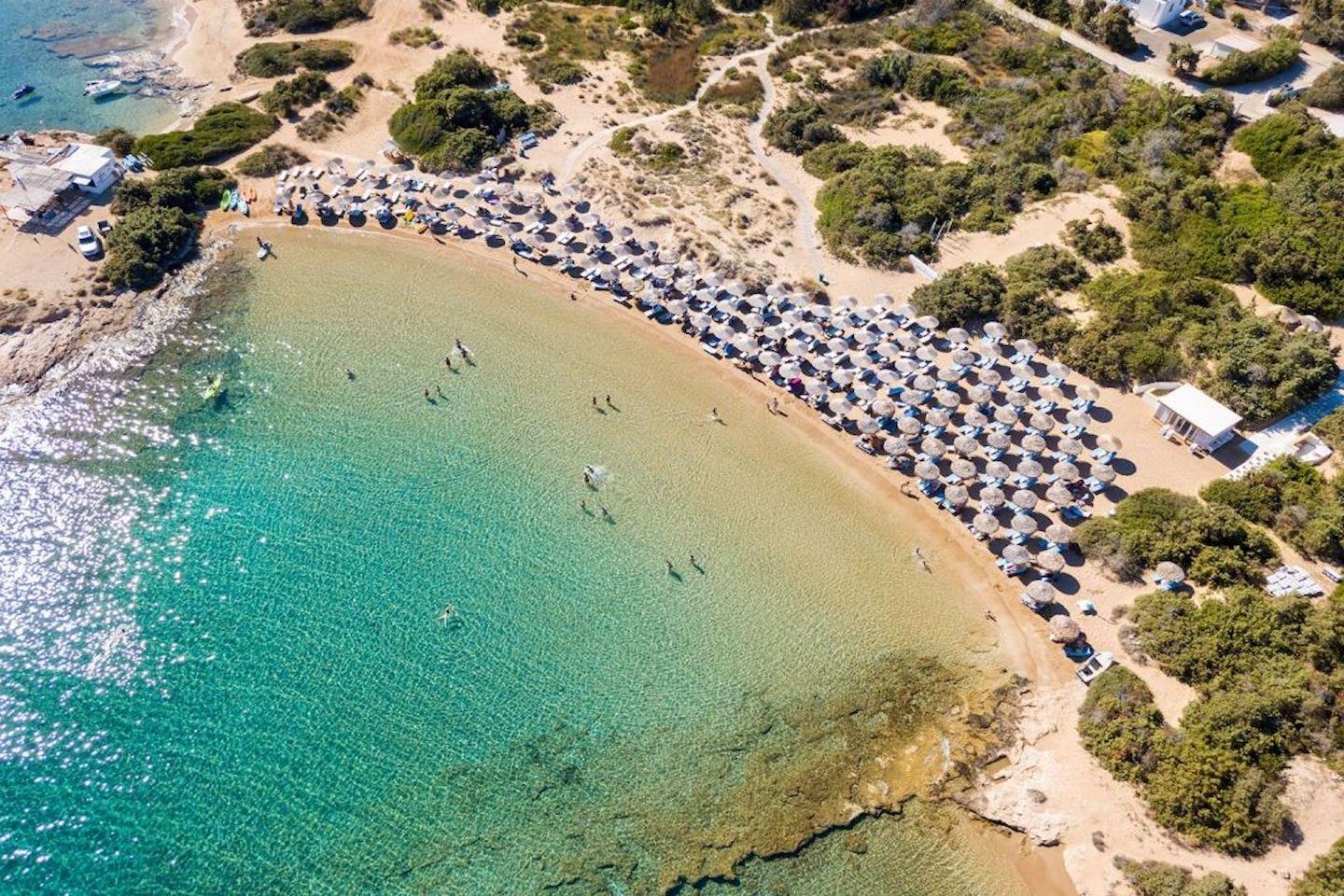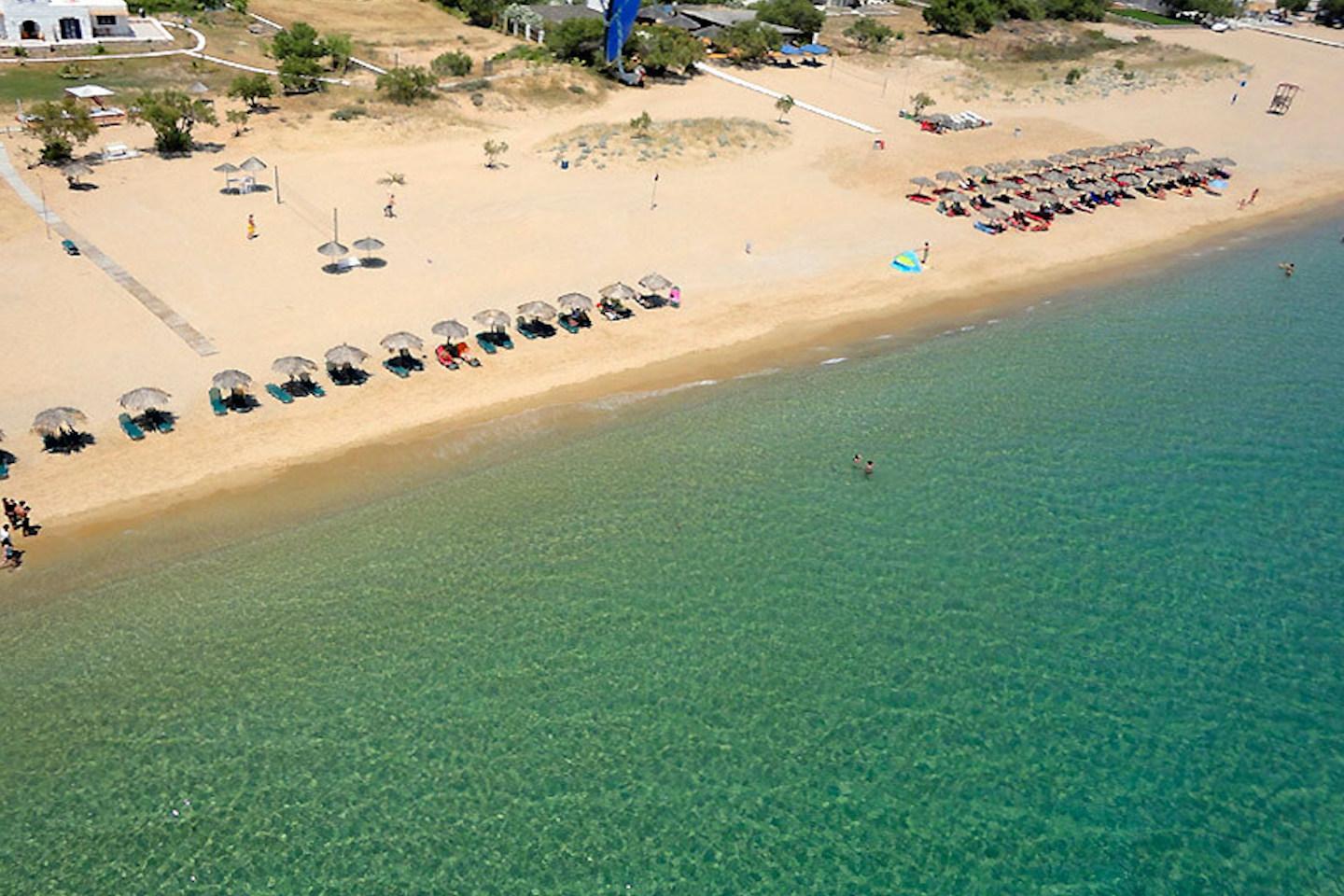 "Traditional Foods"
"Traditional Foods"
There are so many places to eat and drink on this popular island. Restaurants and tavernas are found all over the island with the majority of restaurants located in Parikia and Naoussa and the traditional tavernas found in villages and beaches.
Over hundreds of years and despite the dry, windblown soil of the Cyclades, the locals have taken advantage of the weather conditions and harvested crops with high tolerance to the sun and heat. They were and still are compensated highly with aubergines, zucchini, wild greens, green beens and broad bean varieties that thrive and produce the tastiest and most delicious vegetables.
Fish is cooked in a variety of ways. In addition to tasty soups, they are grilled, fried, and cooked with vegetables, greens and legumes! The locals have also turned giant snails from a humble dish into a gourmet delicacy. Boiled with garlic, fried or in an onion stew they simply surpass every taste challenge.
The locals clearly follow a Mediterranean diet rich in fruits and vegetables, fish, olive oil, wine, spirits and dairy products. But they know how to cultivate and produce such aromas and flavours its simply divine! Humble, earthy, back to basics, wholesome food. The honey, the herbs and spices, the capers, the meats, the fish. Everything is bursting with fullness as everything is more or less organic with no traces of injected hormones! And although everything you are going to eat is scrumptious, we admit we do have one clear weakness. Figs. That's right. And the figs here are found everywhere in the summer! They are syrupy and sweet and juicy and nothing like you will ever taste again, anywhere. They are in such abundance that they are dried and filled with sesame seeds and almonds and made into marmalades and sweet preserves. The same for goes for sundried grapes and tomatoes.
The multitude of summer visitors to Paros are bound to seek out wine and spirits related activities and they will surely be in for a treat. The harvesting and pressing of grapes usually begins in late August and locals and visitors alike are welcome to take part in the process.
Skippers Tip
As Anti Paros is the perfect complement to Paros here's a few tips for a great visit! The sunset at Sifneiko beach followed by dinner at Kalokairi restaurant is gorgeous. (reportedly Tom Hanks and Rita Wilson love to ear here whilst on the island). And the cliffs in the south of Anti Paros have some great caves, and one in particular enormous cave which you will need to visit with a taxi but so worth exploring… (apparently the King of Spain ate Christmas dinner in there once!!) Also, the channel between Anti Paros and Despotiko is a great place to anchor. There is a small church on the beach and a great place for a BBQ one evening.